In October of 2022, the Thang Gang received an email from a woman in New Jersey inquiring about our floats. She had read how individuals across the board were enjoying the Thang, as well as the many who've benefited from its therapeutic attributes. She was particularly interested to see if it could help her daughter, who has not been able to walk since the age of 10 and is now in her 40s.
Aside from the enjoyment received from the recreational aspect of floating, we must never underestimate the advantage that a zero-gravity environment can have. Aquatic therapy is both relaxing and beneficial to muscles, joints, and the entire body. Can you imagine the extra discomfort and stiffness one might have when restricted to a wheelchair? We were moved by her story, and as soon as we could get a few samples of the new inflatable Thang, we promised she would be one of the first to receive one. We want to share their experience on just how the new float performed.
Here is their story: 
We are anxious & excited to try your new product on our daughter.  The weather has changed at the Jersey Shore, so she swims a few times a week in our clubhouse indoor pool.  I can't wait to see the look on her face when I no longer have to hold onto her & we can swim freely together.
After using it:
I'm elated to share our daughter's swimming experience using your new inflatable flotation device. She was thrilled to be able to swim freely without fear and with no one having to hold on to her. We so enjoyed swimming side by side together once again!
She was even able to follow through with her therapeutic leg exercises. The neck rest did a great job preventing her mouth from nearing water, which she feared……… I can't thank you enough for allowing us many more hours of enjoyable swimming together. Louise (NJ)
Louise was so appreciative she wanted to share her photos. We also have videos below that review tips on using the inflatable Thang. Our experience is that NOT fully inflating the Thang can offer an extra level of comfort. However, you can gauge the pressure to your liking.
As we move forward with the new Float'n Thang product, it's been nothing less than rewarding.  We are so proud knowing our custom-designed, durable flotation has brought so much joy and helped so many.  As always, please be mindful of children around bodies of water. 
 We thank you and look forward to continuing our journey to get everyone Float'n.
Warning: This product is not a certified lifesaving device and is meant to assist individuals with staying above the waterline in an upright position.  It is always recommended to not swim alone or to have proper supervision.  Extremely  cold bodies of water can be deceptive and are one of the most common causes of drowning.  Having the proper flotation device  within reach can make the difference between life or death. 
Better to Float Together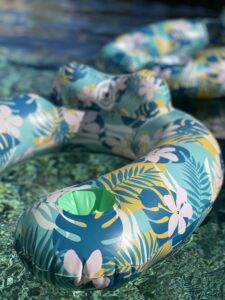 TESTING OUT THE FLOAT IN CABO
Both in the pool and the sea