Marketed as a multi-use personal flotation device, the Float'n Thang® is an Innovation in Flotation for Zero Gravity Floating. The design allows for free movement while the body experiences in-water weightlessness of free-floating, unlike most other single-purpose floats that keep individuals on top or completely out of the water.
The Float'n Thang solid closed-cell designed unit has been tested & used by some of the top rehabilitation centers in the country.  Read more on Barrows in Phoenix, AZ Romanian teen underwent surgery for a rare condition in Phoenix
The custom-designed features allow the device to function as an amazing in-water float, allowing the user to float in several different positions. Individuals using this float can move quickly through the water while enjoying a relaxed back swim style.
The user gets to experience the benefits of Zero Gravity floating by choosing to float in the traditional or reverse arm float position.   It comes with built-in beverage holders for keeping them hydrated in the summer heat. This diverse device can function out of the water in a variety of ways as well, such as using it on a paddleboard for holding items, added safety, and as covenant personal flotation for taking a break from standing on the board. A safety leash can be attached for more security. The solid device is so durable; it can be used as a temporary boat bumper for smaller vessels.
Order Today – A Solid Investment in a Flotation that is Durable and Reliable.   Give your body a Zero Gravity Experience right in Your Own Pool
EXPERIENCE ZERO GRAVITY - Go on, you deserve it!
Transform any pool or hot tub into your own personal weightless chamber.  Take the plunge!
Imagine feeling no weight, your entire body just floating as you engage the Float'n Thang with your arms extended in a relaxed position. 
Your body will instantly feel warm and soothing sensations, as the Float'nThang lifts you into a sense of weightlessness.   
A supple, yet firm headrest and built-in beverage holders accentuate the Float'nThang making it the Ultimate in Luxury Flotation.
The soft, solid closed-cell foam needs no inflation translating to a no maintenance float that drys in seconds.
Ask about the 10 amazing stretches from head to toe, only done with the custom designed Float'nThang®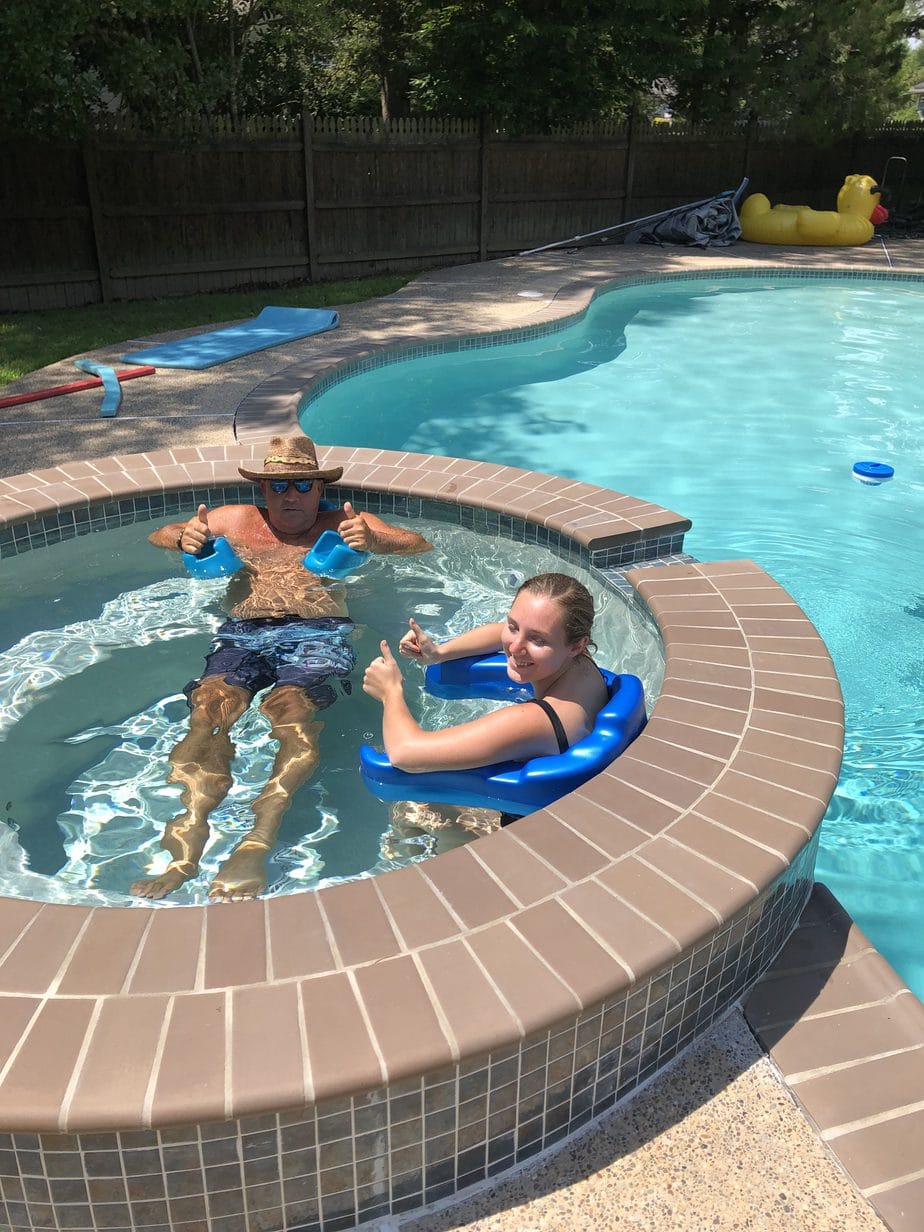 EXPERIENCE ZERO GRAVITY - Go on, you deserve it!