LUXURY PERSONAL FLOTATION DEVICE HELPING EVERYONE FLOAT BETTER
Summer is approaching fast.  Temperatures are rising, along with warmer waters, making way for those perfect floating opportunities. This summer, we are seeing a change in attitudes regarding a desire for better, more durable floating devices. Cheap inflatables are making way for longer lasting, solid closed cell foam products that need no inflation.  One personal flotation product making a truly innovative step in this direction is the new "Float'n Thang® ". Marketed as a luxury level, multi-use personal flotation device, The Float'n Thang®  is guaranteed to never fade, chip, or peel. The material is so dense, it will never absorb water. This eliminates the chance of mold and mildew, allowing it to dry in seconds.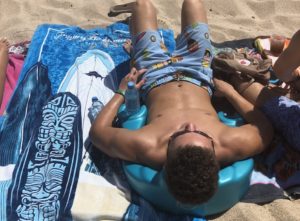 The custom designed features allow the device to function as an amazing in-water float, allowing the user to float in several different positions. It also comes with built-in beverage holders. This diverse device can function out of the water in a variety of ways as well, such as using it as a paddleboard booster seat.  A safety leash can be attached for more security. It's so durable, it can be used while boating, as a temporary boat bumper. The thick, pillow-like foam is perfect for placing it on any beach towel as a comfortable, reclining support and headrest.
The Float'n Thang®  is extremely stable and helps people of all sizes, from children to adults, as well as those who struggle with disabilities. The Float'n Thang design is superior to other flotation devices. It's horseshoe shape and thick, flexible arms provide another level of comfort as it hugs the contour of your body. Another plus, "Children are gaining confidence around the water," said Doug Masi, founder, and inventor. "With the simplicity of use, I've received photos from moms and dads who are excited to see their children enjoying their first experiences in bodies of water. Once they fall in love with floating and feel more confident, the child is often eager to get started with swimming classes."  Doug went on to say, "Seeing an individual like David, smiling and laughing, made all the effort developing this product worth it. David was born with multiple disabilities, including Epilepsy & Cerebral Palsy. Now he enjoys floating independently, while his mother, Michelle, happily supervises".  Read more about David's story at www.HISKids.Life.
 "My goal is to create a level playing field for those with disabilities, as well as impact the 3500 non-boating related drownings that occur each year in the U.S."
Customers have revisited and repurchase more due to the fact that their friends choose to float on The Float'n Thang® vs other devices that don't hold your beverage nor allow all the cool floating positions.
The future looks bright for the Float'n Thang® Gang as new accessories are underway, such as the pet/cooler pad and personalized sleeves. It is Patented and made entirely in the USA.
We look forward to adding more smiles to individuals who otherwise may never have been able to enjoy floating.
Disclaimer:   Always have adult supervision at all times while around water.  Not intended to be a life-saving device.  Sunshine Innovation does not represent that this device will work for everyone. Each case should be reviewed and supervised by responsible individuals.  Imprinted on the underside of each Float'nThang is the message "Always Watch Children Around Water"
The Float'n Thang®
by Sunshine Innovations LLC
US Made & Patented
www.FloatnThang.com
@floatnthang on IG/Twitter/FB. #Floatnthang